The confectionery shelves in supermarkets are filled with products packaged with Sappi papers and paperboard. The trade journal Sweets Processing, which has been reporting on the latest developments and trends in the confectionery industry since 2011, is also well aware of this. It therefore spoke with Kerstin Dallmann, Market Manager Packaging Solutions at Sappi Europe, who informed it of the great importance of the industry to Sappi. Learn more about the innovative packaging solutions we offer for the confectionery industry, the latest trends and how we can ensure both optimal and sustainable protection of the products to be packaged.
Sweets Processing: How important is the confectionery industry for Sappi?
Kerstin Dallmann: Sappi packaging paper is used across the entire confectionery industry. Our papers and paperboards are setting the bar very high in the market. They have a unique look and feel and a high degree of whiteness. This enables outstanding results in terms of processing, printing and finishing. With their special product properties and consistently high quality, they impress on packaging machines and lines. Brand owners, converters and agencies frequently specify our products as the benchmark. They also value our backup solutions, as we can produce our papers and paperboards on multiple paper machines and in different paper mills.
Sweets Processing: What solutions does Sappi offer to this industry?
Dallmann: A large number, when you consider how many types of packaging on the shelf are based on our papers and paperboards. From luxurious folding boxes for premium chocolates and pralines to chocolate wrappers, chewing gum packaging, twist wrappers for sweets and stand-up pouches. What's special about this is how our products combine visual and functional qualities. We are also an innovation leader when it comes to paper with integrated functionality, such as grease, oxygen, water vapor and mineral oil barriers and heat sealing ability. We were also one of the first manufacturers to bring barrier paper for chocolates into the market. Just a few months ago, the world's largest food company launched a new range of fruit and nut bars in environmentally friendly, multifunctional packaging – made from one of our functional papers. It is suitable for recycling in the paper waste stream and is made from renewable material wood fibres.
Sweets Processing: How does Sappi stand out from its competitors with its products, company philosophy and research and development?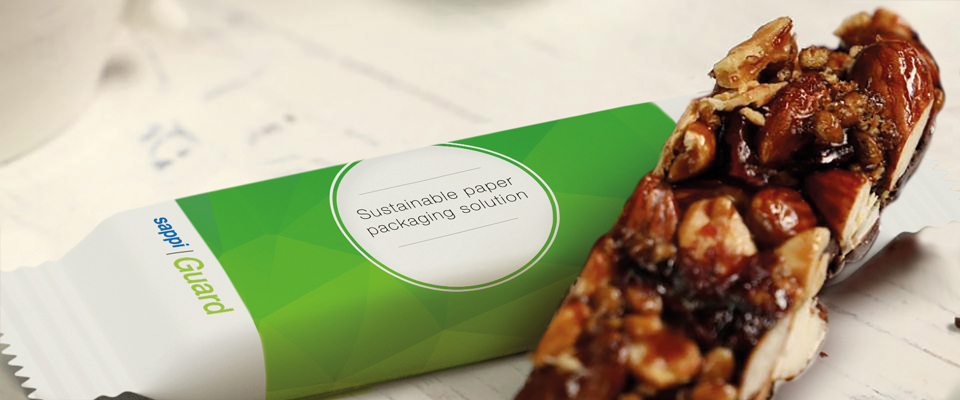 Dallmann: Sappi is much more than just a supplier of materials. As mentioned already, we are an innovation leader. We have a very long tradition when it comes to flexible packaging. We also have over ten years of experience in Functional Paper Packaging. This is based on our passion for paper, regularly significant investments and our team spirit. In cooperation with brand owners, machine manufacturers and other strong partners throughout the value chain, we develop the sustainable paper-based packaging solution that the customer requires. By bringing together innovation and sustainability, this is also anchored in our strategic company orientation. For example, we published our comprehensive Group Sustainability Report 2019 at the start of the year. We transparently and honestly show what we have achieved and identify aspects that remain a challenge.
Sweets Processing: What trends does Sappi see in the packaging of sweets?
Dallmann: The trend is clear – moving away from composite materials and towards sustainable, recyclable monomaterials. In line with the motto "Pro Planet – PaperPackaging", we develop innovative packaging papers for these types of sustainable packaging solutions, and of course also for the confectionery industry. Modern packaging papers offer integrated protective functions and enable attractive appearance and use, including easy opening.
The range of goods in stock is constantly growing, which makes first impressions more important than ever. This is increasingly confirmed by requests from our existing and new customers. We are also witnessing increased interest in paper recycling, as this recycling system is very well established and has a mature infrastructure and already high recycling rates. Paper fibres can be reused several times – an attractive closed cycle based on the renewable natural resource of wood. Along with environmental and product protection, another factor also plays a key role. All innovations must be able to be processed on standard packaging machines.
Sweets Processing: What solutions will Sappi be offering the industry to meet the challenges of the future?

Dallmann: Our research into new papers and paperboards is directed by product protection. How can we ensure optimal and sustainable protection of the products to be packaged? We are developing a wide range of products out of this, which we are continuously expanding and which will further set new trends in the market. In this context skilled support and consultancy are very important. We provide our customers with our expertise from product selection or product development to packaging processes, as product, material and machine must form a functional unit. This will be clear once again at our virtual interpack 2020, which will take place from 6 to 31 May on sappi-interpack.com. Sappi will present the second generation of its barrier papers: These barrier papers are even more environmentally friendly, making them the smart choice for a wide range of applications in the future. Our colleagues are happy to answer the questions of customers and interested parties via chat during this time. In spring 2021 we are looking forward to the personal contacts in Düsseldorf.