The demand for more sustainable packaging solutions is rapidly increasing: they should have greater functionality, be more environmentally friendly and recyclable while providing optimal protection for the packaged products. Likewise, the packaging process must be fast and reliable and work with alternative packaging materials. In this context, we are working together with GEA, one of the largest technology suppliers for food processing. The goal of this cooperation is to help manufacturers better understand their options in using greener packaging materials like paper – and to ensure that it runs efficiently on their packaging machines.
That's why we support the global Two Sides association, which confronts myths about paper production with verifiable facts and why we are expanding our portfolio of recyclable packaging solutions. Consumers value paper recycling.
The challenges and the benefits of paper packaging
Paper itself has no barrier or seal functionality. These functionalities must be added to the material. For more than ten years we have been developing functional papers that are recyclable in the paper waste stream. This is a real value to end-users as this paper-based packaging can simply be placed in their own paper recycling bins.
The sustainably managed forests and plantations from which we source woodfibre are essential to a healthy environment, sustaining vital plants and wildlife, filtering water and air, and reducing greenhouse gases by removing carbon dioxide from the atmosphere. Since our Functional papers contain high amount of these renewable resources, they can directly enter the well-established paper recycling stream. The fibres can be recycled many times and this supports our aim of achieving a closed loop in the paper recycling stream.
Functional Papers tested on GEA packaging machines
Once the correct functional paper is identified, its use will be monitored on the packaging machines. To ensure smooth runnability of the paper on packaging machines, we established a close collaboration with GEA in 2017. We used the opportunity to test several grades of our functional papers at a GEA test centre in the Netherlands and to deliver several learnings for improvements on both paper and machine.
For example, GEA produced paper bags made from "Sappi Seal Silk," a paper-based packaging solution with a high percentage of the material coming from renewable sources to replace heat-sealing laminates. This innovative paper includes a dispersion on the reverse side, which delivers good heat-sealing results. It is suitable for multi-packs and for foodstuffs that do not require a significant barrier protection (e.g., single packed sweets or oat flakes).
The Sappi Seal Silk functional paper was tested on a GEA SmartPacker TwinTube, a continuous motion, high-speed vertical packaging machine, supporting pillow bag styles for packing confectionery, including soft and hard candy, small cookies, savoury snacks, dried fruit and nuts. "The new machine is fast, reliable and has a modular design. Packaging is always changing, so you can use the same machine for different applications simply by changing a module. That way it's future proof," explains Martijn van Mortel, GEA Product Manager Vertical Packaging.
No compromising on machine speed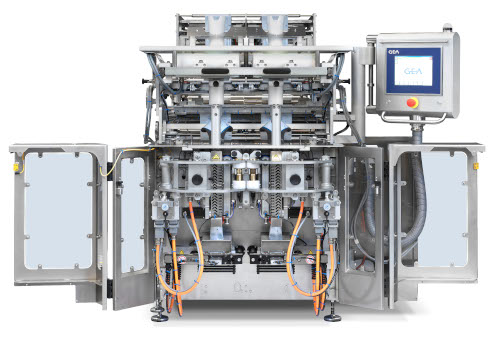 The SmartPacker TwinTube produces 360 bags per minute with labelling, which is the same speed achieved when using OPP film. "This is incredible, given paper behaves very differently than film. Paper itself is less flexible than film, however this is an important feature for forming on a vertical application. Paper also tears more easily, which is convenient for the consumer to facilitate the easy opening of the bags, however this attribute proved a challenge on the production line that we were able to solve. Another advantage of paper is that the seal profile does not disform if it is dropped onto another surface, as is sometimes the case with plastic film if the seal is still hot. And finally, the paper bag simply looks good," says Jacques Timmermans, GEA Application Specialist Packaging.
Future in focus
The GEA SmartPacker TwinTube is an extremely flexible concept, therefore additional tests are already planned in the near future. We are going to test additional papers that offer water vapour barrier, mineral oil barrier or grease barrier. Other high barrier solutions will follow.

As you can see, alliances and reliable partnerships are not only the key to success in packaging. Together with GEA we are now able to consult and support brand owners and advise them about paper products and their suitability for use with their packaging machines – a complete solution that gives them a real advantage.