A new product film transforms the fascinating qualities of Sappi's Atelier into a realistic experience. It's true, at Sappi we're a little bit proud of ourselves because the international market launch of our new, brilliant, premium paperboard Atelier (GC1) has started so successfully. More than 30 years of know-how and craftsmanship have gone into creating this innovative GC1 paperboard material. For months, we have been heavily investing in converting and upgrading our paper machine 6 at Sappi's Maastricht mill with the latest production technology to ensure the consistently high quality of Atelier.
Atelier sets new market standards
Atelier by Sappi is a premium folding box board. Pair its brightness level (100 per cent on the front, 98.5 per cent on the back), high paperboard gloss of 50% and silky-matt feel, with high bulk and stiffness and it provides perfect functionality for all manner of printing methods, conversions, finishes and downstream processes. Atelier sets an entirely new standard by combining all these factors and is available in rolls and sheets from 220 to 350 g/m².
At this point, of course, we could tell you that the first deliveries and samples led to extremely positive and enthusiastic feedback from our customers and partners. But what would be even better is if you saw the high level of stiffness, the impressive surface quality and the unique whiteness of Sappi Atelier for yourself. Which is why we have created the Atelier swatch book – a book that demonstrates the range of innovative finishing options and brings the samples alive to the eye and touch. To illustrate the advantages of Sappi Atelier as realistically as possible, we also shot a four-minute film that builds on the book.
A substrate for limitless creativity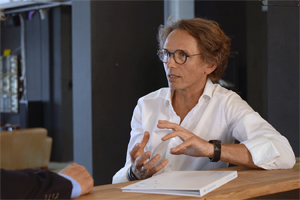 The product name 'Atelier' evokes associations of creativity, a love of experimentation and artistic mastery. Precisely why we chose the inspirational studio atmosphere of g.a.s., the creative agency in Fürth, as the location for our product film. Martin Appoldt (Managing Director g.a.s.) and Lars Scheidweiler (Product Group Manager Paperboard Sappi) met here to discuss the qualities, the almost limitless design possibilities and the tactile experience level of Sappi Atelier. The camera takes a detailed tour of the Atelier swatch book's breathtakingly designed pages and visually reveals the potential of this remarkable product for the folding box board market. Whether swatch book or film – influencers from the packaging industry gain a veritable treasure trove of fresh inspiration for future projects.
We don't want to say too much at this point. Take a look at our film and order your free personal copy of the Atelier swatch book. You will look at the world of GC1 paperboard from a whole new perspective. Guaranteed!
Watch the film